Nursing Jobs in Virginia with Crest Premier Staffing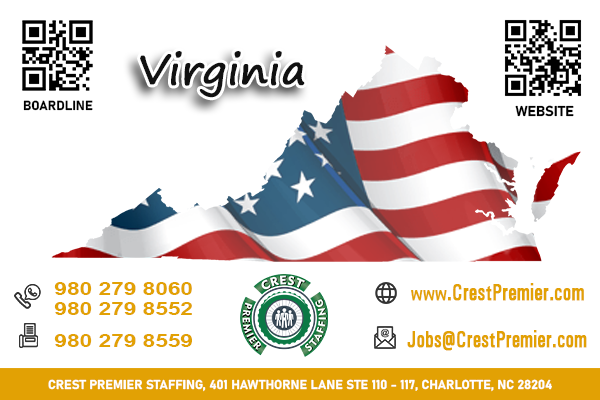 The right nursing job in Virginia is closer than you think with Crest Premier Staffing...
Locations for
Virginia nurse jobs
include Alexandria, Chesapeake, Hampton, Harrisonburg, Leesburg Town, Lynchburg, Newport News, Norfolk, Portsmouth, Richmond City, Roanoke, Suffolk, Virginia Beach and more.
Crest Premier Staffing
covers all
nursing healthcare jobs in Virginia
including Certified Nurse Aide (CNA), State Tested Nurse Aide (STNA), Medical Assistant (MA), Licensed Practical Nurse (LPN), Registered Nurse (RN), Physical Therapist (PT), Occupational Therapist (OT), Speech Therapist (ST), Director Of Nursing (DON), Administrator and more.
Crest Premier Staffing
employees have a work environment that fits their personality and career goals and get a chance to make a difference every day by setting the standard of excellence in medical care, hence meeting our company's mission to improve the health of all of our communities.
Register today to become a part of our diverse healthcare team with best
nursing jobs in Virginia
and enjoy extensive benefits like competitive wages, health insurance, weekly payroll, vacation time, paid birthday and much more with variety of opportunities for personal and professional growth.
Register at Nursing Job in Virginia
Are you looking for
Nursing Job in United States of America
with other states?? For opportunity register with below links.
Nursing Jobs in Florida
,
Nursing Jobs in Georgia
,
Nursing Jobs in Kentucky
,
Nursing Jobs in Michigan
,
Nursing Jobs in North Carolina
,
Nursing Jobs in Ohio
,
Nursing Jobs in Texas
,
Nursing Jobs in South Carolina